John Malone: He's baaaaaaaack
February 3, 2014: 1:29 PM ET
The cable mogul's flurry of recent offers has industry watchers asking: What's the play?
By David Whitford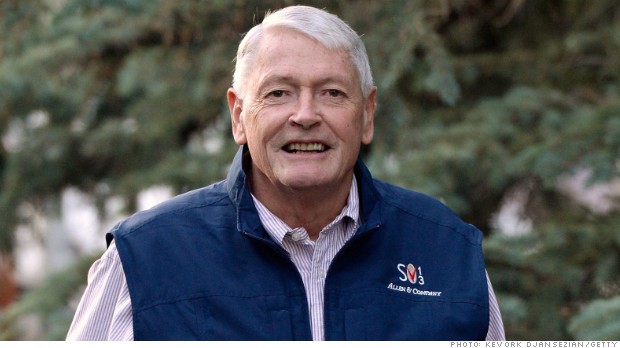 FORTUNE -- "Basically, for my whole life all my assets have been tied up in the companies I've started and run," John Malone, the billionaire founder and chairman of Liberty Media (LMCA), told Fortune a year ago last fall. That story was about how Malone was amassing vast tracts of ranch lands and wilderness -- to the point where he had usurped Ted Turner as America's biggest landowner. "In recent years," we reported, "he has successfully spun off businesses and is now free, he says, to spend more of his wealth on land ..." The implication being that the legendary cable mogul and master of the impenetrable corporate structure, now in his 70s, was kicking back.
Well, perhaps not quite. Early Monday morning the New York Post reported that Malone may be looking to buy a 49% stake in the company that owns Formula One racing -- the latest in a spate of recent acquisitions, both rumored and real, that suggest Malone is as tied up in dealmaking as he ever was. "We all think we know what we want until we've had it for a while and then we want to change," says independent analyst and longtime Malone-watcher Jeff Kagan. "He sounded a year ago like he was tired and he wanted a break. But you can't take a break forever."
Malone is still America's land king. According to the latest Land Report 100 list, his recent acquisitions include a manor house in western Palm Beach County for $7.8 million; a nearby horse farm for $12.5 million; and a castle with a surrounding estate in County Wicklow, Ireland, (not included in his domestic tally) for $9.5 million. Coast to coast, he's got 2.2 million acres. That's Delaware plus Rhode Island plus Rocky Mountain National Park.
MORE: Is John Malone Getting Sirius for a Song?
But what's a big-league investor to do with himself after he's bought a lot of land he has no plans to develop? Malone is hardly a conventional empire builder-- he tends to incubate companies, fix what's broken, "and when they're fine spin them out," says National Alliance Securities analyst Robert Routh -- but he has never been what anyone would describe as passive. And judging by the spectacular moves he has made in recent weeks, he is eager to assert himself once more in the very arena where he built his $7 billion fortune.
Over a span of 24 days in January, through Liberty Media and other companies he controls, Malone made commitments and overtures totaling more than $75 billion, including a $10.6 billion offer for the 48% of satellite radio company Sirius (SIRI) that Liberty Media doesn't already own; a $61.3-billion bid, via Charter Communications (CHTR), for Time Warner Cable (TWC), the nation's No. 2 cable provider; and $13.7 billion for the 71.5% stake in Dutch cable provider Ziggo that Liberty Global doesn't already own.
Only the Ziggo deal is firm, pending regulatory approval. The other two are exploratory volleys in what will likely develop into far more expensive battles. Time Warner Cable has already described the offer it received as "grossly inadequate," while Ralph Nader, in his new role as shareholder advocate, described the Sirius offer in a letter to institutional shareholder Vanguard as "ludicrously low."
MORE: Comcast eyes Time Warner Cable and unprecented market power
What's the play? Malone declined to comment, but clearly the deal for Formula One, if it pans out, would fit nicely with his recent acquisition -- through his large stake in cable behemoth Discovery Communications (DISCA) -- of the European sports network EuroSport. But programming is just part of what Malone is accumulating. And as viewers draw more content from the Internet and less from their TVs, broadband capacity, not traditional cable, becomes the key asset. The 500-channel cable universe is indeed losing its luster, experts say, but the infrastructure built to support it is more valuable than ever. "He's taking a long-term view," says Macquarie Capital analyst Amy Yong. "Broadband has pricing power, consumers will be using more, and he sees consolidation as one of the first steps."
Penn State Professor Patrick Parsons, author of Blue Skies: A History of Cable Television, doesn't pretend to divine the current strategy of the businessman he describes as a "savant financial genius," but he's pretty sure what the outcome will be. "His genius was always in taking this very large financial infrastructure and reorganizing it in byzantine ways," Parsons says. "Most common people couldn't penetrate the logic, but it always seemed to make him richer."